Case name: DZW series tri-drum biomass-fired steam boiler
Company name: AEN PALM OIL PROCESSING(PVT)LTD.
Location: Sri Lanka
Equipment: DZW15-1.25-M
Project boiler medium: Steam
Capacity: 15 tph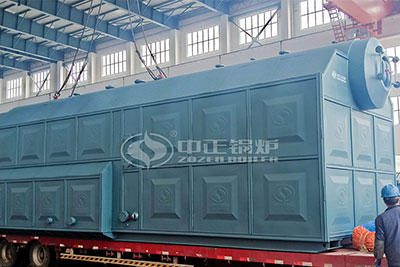 Customer feedback
In order to save costs and protect the environment, we had always hoped to use the waste palm fiber as boiler fuel, but we had not found the suitable boiler equipment. Through the Internet, we knew that ZOZEN Boiler was a biomass boiler manufacturer with advanced technology. After the in-depth communication, we were satisfied with the boiler system solution provided by ZOZEN which could meet our requirements and realize the high-efficiency boiler operation.
Case info
In the palm oil production, steam boiler, as an essential energy equipment, can provide a large amount of heat support for processes such as steaming, refining and so on. AEN PALM OIL PROCESSING(PVT)LTD. is a well-known palm oil manufacturer in Sri Lanka to provide raw materials for many international brands including McDonald's, Colgate, Fanta, Chanel, etc. Adhering to the green and sustainable development concept, AEN PALM OIL PROCESSING decided to use the waste squeezed palm fiber as boiler fuel. By virtue of the third generation of biomass-fired boiler, ZOZEN successfully solved the easy coking problem of palm fiber after combustion and reached the cooperation with AEN PALM OIL PROCESSING.
ZOZEN DZW series biomass-fired boiler is a kind of tri-drum water tube boiler with characteristics of less ash accumulation, high efficiency and good environmental protection performance. There is no need to stop the boiler for dust removal, which can make the boiler normally operate for a long time. Meanwhile, considering the combustion characteristics of palm fiber, ZOZEN technicians also optimize the feeding hopper, furnace arch and air distribution to well control the coking problem caused by the fuel combustion. Besides, the boiler also adopts the inclined reciprocating grate with wider fuel adaptability, which can ensure the sufficient combustion of palm fiber and improve the fuel utilization, so as to save a certain of fuel costs. So far, the boiler has completed the on-site installation and system commissioning under the guidance of ZOZEN engineers, and has maintained the stable operation.