Case name: DZL series biomass-fired tri-drum steam boiler
Company name: Yingkou Yunken Animal Husbandry Co., Ltd. (Yunken Group)
Location: Yingkou, Liaoning
Equipment: DZL15-1.25-SCIII
Project boiler medium: Steam
Capacity: 15 tph
Customer Feedback
The third-generation biomass-fired boiler provided by ZOZEN had greatly improved our chicken slaughtering and processing efficiency and had ensured the high quality of our chicken products. The boiler had high thermal efficiency, sufficient combustion, less ash accumulation and low emission concentrations of harmful substances, which was a kind of outstanding eco-friendly boiler product.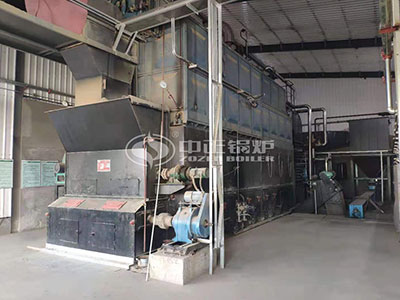 Case Info
Yingkou Yunken Animal Husbandry Co., Ltd., founded in 2017, belongs to Yunken Group. The company plans to gradually develop the whole industry chain of chicken feeding, slaughtering, processing and delivery. During the chicken slaughtering and processing, chicken scalding and other processes need a large amount of steam for heating to ensure the normal procedure of chicken production and processing. Therefore, Yingkou Yunken ordered a set of DZL series biomass-fired tri-drum steam boiler from ZOZEN Boiler to further improve the production quality and efficiency and provide healthier, safer and more nutritious chicken products for customers.
ZOZEN DZL series biomass-fired tri-drum steam boiler is the third-generation biomass-fired boiler product jointly developed by ZOZEN Boiler and Shanghai Jiaotong University. This type of boiler has wide fuel adaptability and high thermal efficiency. According to different biomass fuel characteristics, the boiler can be equipped with different grates to ensure the sufficient combustion of biomass fuels. The dead angle of the flue gas scouring the heating surface is small, so it is not easy to form a vortex, thus the heating surface has higher heat transfer efficiency. Besides, the flue gas enters the convention area from furnace outlet, and the dust in the flue gas directly falls into the ash hopper at the bottom of convention area. Through the rotary dust discharge valve and tube, the accumulated ash is discharged onto the grate, so the real-time dust removal can be realized.