DOSH, short for Department of Occupational Safety and Health in Malaysia, who issues the DOSH certification. Products that have not passed DOSH certification will be refused entry by Royal Malaysian Customs. ZOZEN Boiler owns a professional international trade team and has rich experience in overseas cooperation. The certification process including materials, design, drawing review to manufacturing and acceptance met DOSH certification.
ZOZEN Boiler provides boiler for Malaysia Yeh Brothers
Not long ago, ZOZEN Boiler once again obtained the DOSH certification of 6 tons gas-fired steam boiler, and completed the cooperation with Yeh Brothers, a well-known enterprise. Yeh Brothers is a diversified company in Malaysia, which produces and sells furniture, fittings and wood materials. The company was founded in Kaohsiung, Taiwan in 1975, and moved to Malaysia in 1990. At present, it has two production bases in Malaysia and Indonesia.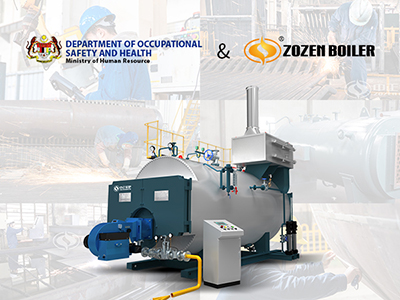 ZOZEN Boiler gets the DOSH certification on the WNS series 6 tons gas-fired steam boiler
In order to meet the increasing heat demand of the production base and recycle the waste biomass gas, Yeh Brothers decided to buy a set of steam boiler that can burn biomass gas. ZOZEN Boiler got the contract from Yeh Brothers relying on its powerful strength and rich experiences in serving the Malaysia market.
Design of ZOZEN gas-fired steam boiler
ZOZEN Boiler provided a set of WNS series gas-fired steam boiler for the customer. ZOZEN WNS series boiler adopts the wetback internal combustion structure, the corrugated furnace provides enough space for the sufficient combustion of the fuel. The corrugated shape also increases the strength and elasticity of the furnace, effectively protects the pressure components during the thermal expansion of the boiler, it ensures the safety.
Considering that the high-temperature flue gas takes away a part of the heat energy, the thermal efficiency of the boiler is reduced. The technicians of ZOZEN Boiler designs two kinds of heat exchange equipment, to fully recover the waste heat of the flue gas to provide steam or hot water. According to the heat consumption situation, the two kinds of heat exchange equipment can be flexibly switched, which not only ensures meeting the heat energy demand, but also improves the comprehensive utilization rate of energy.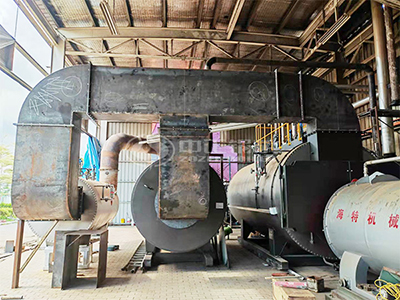 Site drawing of ZOZEN WNS series gas-fired boiler in Malaysia
The person in charge of Yeh Brothers said that the cooperation with ZOZEN Boiler was very smooth and pleasant. It not only deeply felt ZOZEN's thoughtful service, but also fully demonstrated the rich experience and professional ability. The heating system designed by ZOZEN Boiler is especially suitable for the actual needs of the factory, and successfully solves the company's demand for using biomass gas.