The pharmaceutical industry has a hit demand for steam, which is mainly used for heating the production process and disinfection of equipment. Therefore, a steam boiler with high efficiency and stable operation is of great help to the production efficiency of the enterprise. The steam boiler can adjust the temperature and pressure according to the steam demand of the pharmaceutical production line, which not only improves the whole cycle of the pharmaceutical process, but also greatly reduces the production cost and improves the production efficiency of the enterprise, providing a strong guarantee for the production of the pharmaceutical industry.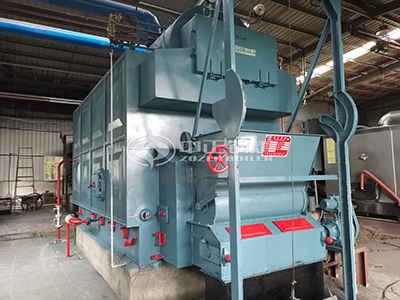 The customer's pharmaceutical plant is a comprehensive pharmaceutical company with research, production and sales. In order to meet the production demand, it is necessary to purchase a steam boiler equipment, according to the actual demand of the pharmaceutical production line, this steam boiler produces 4 tons of high quality steam per hour, using biomass as fuel, which can fully meet the heat demand of the production line.
This DZL series 4 tons biomass steam boiler is reasonably arranged with furnace arch, furnace wall and furnace heating surface, and adopts ZOZEN's self-developed high-efficiency heat transfer element threaded flue tube to enhance the heat transfer effect, and the thermal efficiency can reach 88%. 4 tons chain grate boiler adopts quick-assembly structure, which is compact and very easy to install on site, effectively helping enterprises to save installation cost and boiler room construction cost. DZL produced by ZOZEN series biomass boilers can burn many types of fuels, such as biomass pellets, straw, wood blocks, palm husk, rice husk, corn cob, waste wood and so on. The technical team of ZOZEN boilers will design and match different grates according to the characteristics of different fuels to make the boiler operate at the best level.