Product thermal capacity: 2.8 - 29 MW    
Working pressure: 1.0 - 1.25 MPA    
Outlet temperature: 95/70℃, 115/70℃    
Available fuel: Biomass molding granules, wood chip, corn cob, saw dust    
Available industries: Heating, hotels, schools, hospitals    
SZL series boiler is the horizontal dual cylinder arranged , chain grating and hot water boiler designed by our technical personnel acording to advanced technology and experiences from home and abroad. Convenient for site installation, short in construction period, cheap in cost, simple in operation and etc. This series of hot water boiler is applied for industrial and civil heating purpose.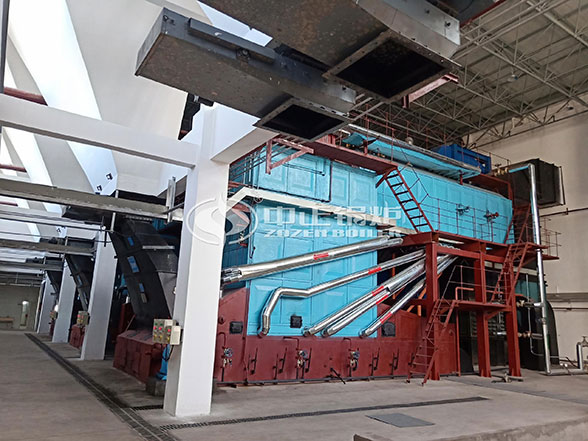 Technical advantages
Wide fuel adaptability
Applicable to a wide range of fuels including bituminous particles, rice husk, corncob, wood chips and etc.
Customized solutions save money and time
Save your money and time with custom designed and engineered feeding system, slag discharge system, flue gas treatment system and boiler house layout plans.
Higher thermal efficiency
Thermal efficiency at least 5% higher than normal systems, annual fuel cost savings for each 7MW boiler as high as $75,000.
High level of automation
Easy maintenance,  high level of automation that requires less in volvement of operational and maintenance personnel.
Low NOx emissions
Graded air supply and special furnace arch structure decrease the NOx emissions to 100mg/m³.
Different biomass raw materials are analyzed by numerical simulations, thermal efficiency is more than 90%.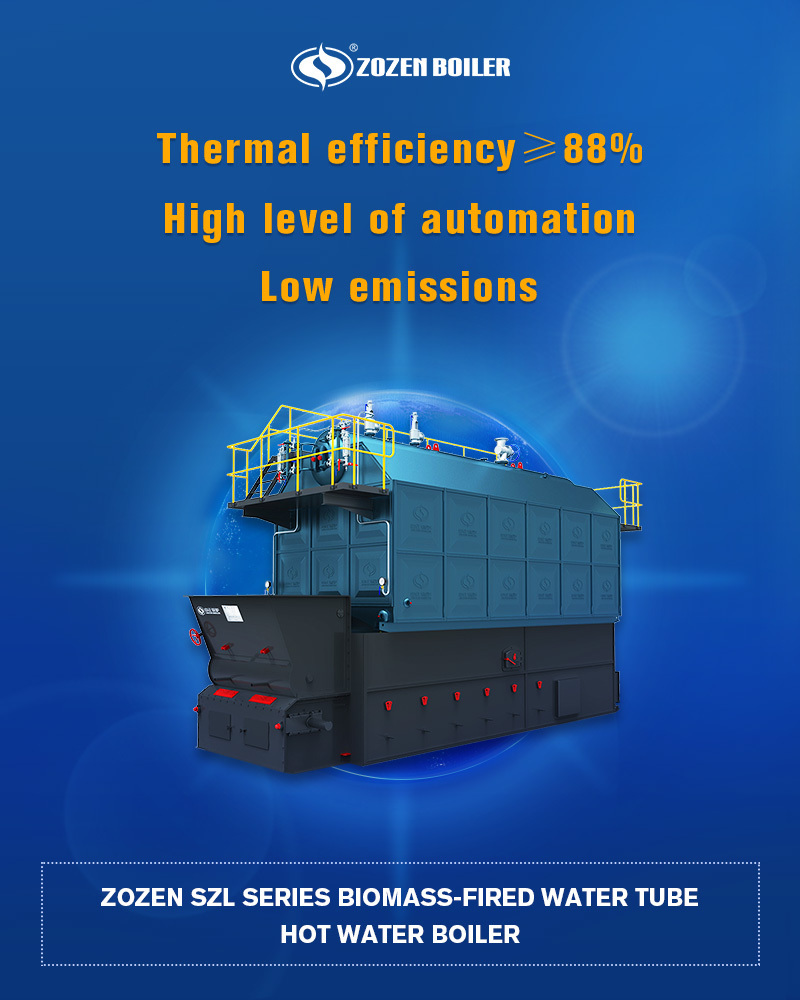 Product Parameters
Model
Rated thermal power(MW)
Rated working pressure(MPa)
Rated output water temperature(℃)
Return water temperature(℃)
Maximum transport size(m)
(L×W×H)
SZL2.8-0.7/95/70-M
2.8
0.7
95
70
customized size
SZL4.2-1.0/115/70-M
4.2
1
115
70
7.0×2.7×3.5
SZL5.6-1.0/115/70-M
5.6
1.0
115
70
6.9×3.2×5.3
SZL5.6-1.25/130/70-M
5.6
1.25
130
70
6.9×3.2×5.3
SZL7.0-1.0/115/70-M
7
1.0
115
70
7.9×3.3×3.5
SZL7.0-1.25/130/70-M
7
1.25
130
70
7.9×3.3×3.5
SZL14-1.0/115/70-M
14
1.0
115
70
11×3.2×3.5
SZL14-1.25/130/70-M
14
1.25
130
70
11×3.2×3.5
SZL21-1.0/115/70-M
21
1.0
115
70
9.9×3.3×3.6
SZL21-1.25/130/70-M
21
1.25
130
70
9.9×3.3×3.6
SZL29-1.0/115/70-M
29
1.0
115
70
customized size
SZL29-1.25/130/70-M
29
1.25
130
70
customized size
Workshop