Case name: SZL series coal-fired chain grate steam boiler
Company name: Baheer Printing & Packaging Co., Ltd.
Location: Afghanistan
Equipment:SZL15-1.25-AII
Project boiler medium: Steam
Capacity: 15 tph
Customer Feedback
We sincerely appreciated for the coal-fired steam boiler and high-quality after-sales services provided by ZOZEN Boiler. ZOZEN engineer overcame a lot of difficulties to help us complete the installation and commissioning of the steam boiler. More importantly, this set of boiler had outstanding environmental protection performance to make us pass the environmental protection inspection successfully as well, which enabled us to fulfill our corporate responsibility of protecting the environment.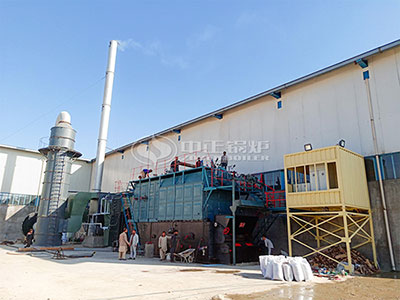 Case Introduction
Established in 1997, Baheer Group is a large-scale enterprise specialized in the production, packaging and printing of corrugated paper. With the increasingly larger production scale, the company's original heating equipment could not meet the steam demands of corrugated paper production and printing lines. In order to ensure the product quality and further improve the production efficiency, Baheer Group decided to introduce a set of high-efficiency and eco-friendly coal-fired steam boiler. After investigating and comparing the qualifications of many industrial boiler manufacturers in the world, Baheer Group finally purchased a set of SZL series coal-fired steam boiler from ZOZEN Boiler and set high requirements for the boiler's environmental protection performance.
According to the coal characteristics, ZOZEN technical team optimized and reasonably arranged the furnace arch, furnace and furnace heating surface, adjusted the ratio of primary to secondary air and optimized the secondary air layout to make the fuel combustion more sufficiently. It is worth mentioning that ZOZEN also customized a set of more cost-effective boiler exhaust gas treatment system for Baheer Group. It adopted cyclone + wet scrubber methods. After filtration, dust removal and dust cleaning, the dust removal efficiency could reach over 98% and the desulfurization efficiency could reach over 85%, which lowered the dust emission concentration to 250mg/Nm3 and made the Ringelman emittance lower than 1 degree. This project had successfully passed the environmental protection inspection organized by Afghan government, which proved to meet the local environmental protection standards.