ZOZEN Boiler has cooperated with Nayyer Carpets, a well-known Pakistan manufacturer of tufted carpets. The 4 ton coal fired boiler has been successfully commissioned and put into production.
ZOZEN Boiler gets another order in Pakistan
Pakistan is an emerging market in Asian, and its overall economy relies on the light industry development and export business. Most of the industrial boilers required for production are imported. In many projects of MMC Soap Factory and Chottani Garment Factory, the quality and transnational service ability of ZOZEN Boiler have been unanimously recognized and praised by local enterprises.
The new user Nayyer is a professional manufacturer of turfed carpets. The company is equipped with advanced technology and equipment, annual production capacity of more than 50 million square meters. Through technical communication, ZOZEN Boiler recommended a set of coal-fired chain grate boiler heating system for the user.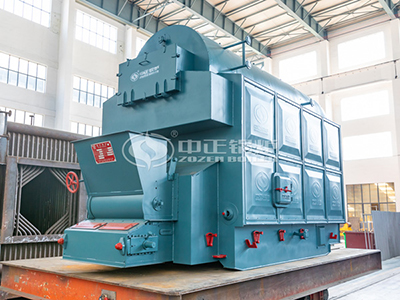 ZOZEN chain grate steam boiler has compact sutrcture and sufficient steam output
ZOZEN Boiler overcomes the difficults to provide the serivces
In the past two years, the ocean freight has risen sharply due to the epidemic. The boiler in bulk can reduce the floor area to a greater extent and lower the ocean freight. ZOZEN Boiler customized the transportation solution for the boiler in bulk.
In this solution, ZOZEN Boiler has played a key role in the service center in Pakistan. In bulk, means the boiler body is divided into various parts and components for packing and on-site assembly. It has higher requirements on installation technology. The technicians of ZOZEN service center in Pakistan have received technical training and are experienced in the project, so they can provide all-round high-quality services such as project technical consultation, solution customization and installation guidance to ensure the quality of this project.
ZOZEN Boiler has saved Nayyer company about 15000 dollars on the cost, and Nayyer expresses their sincere thanks to ZOZEN Boiler. According to the feedback from Pakistan service center of ZOZEN Boiler, the installation of the coal-fired boiler system has been officially completed.