ZOZEN Boiler is a professional boiler manufacturer in China, it was established in 1989. ZOZEN now has developed into a full-range industrial boiler supplier. ZOZEN Boiler has cooperated with giant companies in the lithium battery industry, such as CATL, now it seeks the chance to cooperate with REPT Battero Energy Co., Ltd. to build a set of modern boiler heating system.
ZOZEN Boiler accumulates rich project experiences
REPT Battero Energy was established in 2017 and is one of companies invested by Tsingshan Industry (one of the Fortune Global 500 companies) in the sector of new energy by combining its own rich mineral resources in the world. REPT Battero Energy is mainly engaged in the research and development, production and sales of power/energy storage lithium-ion battery cell to system application, focusing on providing quality solutions for new energy vehicle power and intelligent power storage.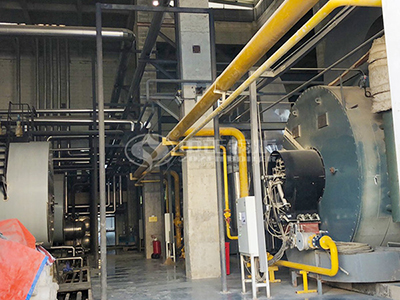 ZOZEN gas thermal oil heater in the project of REPT Battero Energy
In 2020, the company invested a total of 10 billion yuan to build a new high-performance power and energy storage lithium-ion battery and system intelligent manufacturing project, with an estimated annual production capacity of 40GWh power and energy storage lithium-ion battery and system. Regarding the advanced equipment and instruments required by the project, the company has publicly invited tenders in batches, and selected outstanding enterprises in the industry. ZOZEN Boiler and REPT Battero Energy signed a number of supply and marketing contracts for gas-fired thermal oil heaters.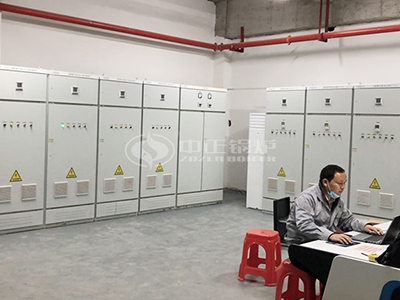 ZOZEN Boiler designs the boiler solution with intelligent control system
ZOZEN Boiler has become one of the key production supplier for the intelligent heating
The project adopts the horizontal gas thermal oil heater. The boiler uses clean energy natural gas as the boiler fuel, the unique design of boiler structure ensures the sufficient combustion of the boiler. ZOZEN gas thermal oil heater has been proved by many projects that it has the advantages of reliable performance, which can provide stable and accurate heat supply for heat-using processes such as concentration, refining and drying.
ZOZEN Boiler also add waste heat boiler and air preheater to improve the energy utilization rate. Generally, the heat supply temperature of the thermal oil is about 230℃, and the exhaust gas temperature of waste heat boiler can be reduced to about 150℃. Then, the air preheater further uses the waste heat to heat the air, and the generated high-temperature air is input into the furnace for combustion-supporting. The thermal efficiency of the gas thermal oil boiler is tested to be more than 95%.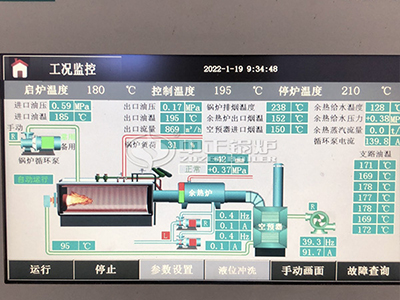 Real-time display of monitoring data system
ZOZEN 14 MV thermal oil boiler is equipped with a numerical control remote control system. The important parameters such as boiler load, outlet oil pressure, exhaust gas temperature, etc. are transmitted to the large display screen through the monitoring device for real-time display and timely warning.