Fushun Dongke Fine Chemical Co., Ltd. is a fine chemical enterprise specializing in the production and sales of concrete additives, lithium battery electrolyte solvents and other products. The sales volume of lithium battery electrolyte solvent produced by Dongke ranks among the top three in the world, and its market share ranks among the top.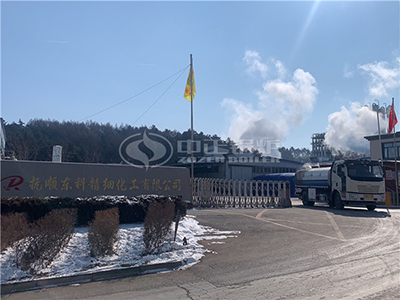 Fushun Dongke Fine Chemical Co., Ltd. is a high-tech enterprise
In the production line of lithium battery electrolyte solvent, industrial steam boiler is an essential heat supply device, and the quality of boiler affects the performance of lithium battery electrolyte solvent to a certain extent.
ZOZEN stands out with excellent energy-saving and environment-friendly boiler solutions, and provides Fushun Dongke with a set of SZS series 35 ton capacity gas steam boiler system.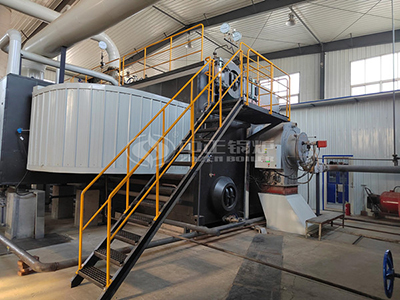 ZOZEN gas boiler running in Fushun Hi-Tech project site
ZOZEN is recognized by Fushun Dongke for its outstanding advantages
ZOZEN SZS series gas-fired boiler used in this project is equipped with advanced low-nitrogen burner, which can automatically adjust the gas quantity and blower air quantity according to the load condition of the boiler, to obtain better air-fuel ratio, promote full combustion of fuel and reduce emissions, and the emissions of nitrogen oxides are as low as 30mg/Nm³.
In addition, ZOZEN Boiler has adopted a number of measures to improve efficiency and help enterprises achieve cost reduction and efficiency increase. First, ZOZEN SZS series gas-fired boiler adopts full membrane structure, which has large heating area to effectively absorb the heat. Second, the boiler insulation material is of high quality, and the furnace temperature is controlled below 45℃, which effectively reduces the heat loss. Also, before each SZS series gas-fired boiler leaves the factory, an anti-leakage wind pressure test will be carried out to ensure the air tightness of the furnace. Therefore, the measured thermal efficiency of ZOZEN gas-fired boiler can reach more than 98%, which is better than the national first-class energy consumption standard.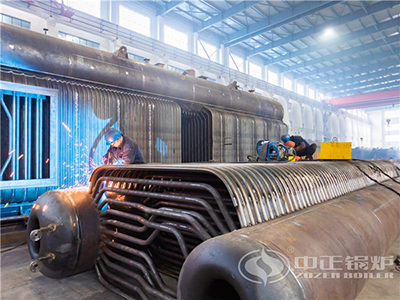 ZOZEN SZS gas-fired boiler is assembling the membrane water cooling wall
In the development of enterprise modernization, information intelligence is the future development direction, ZOZEN Boiler is always in the forefront of the industry, and all gas oil fired boiler products can be equipped with advanced automatic control and monitoring system. The boiler of this project also adopts the advanced automatic control system, which has rich interlocking alarm functions, and forms a three-in-one operation and maintenance mode of boiler Internet of Things+remote control+expert management. The advanced control system makes the boiler run effectively to ensure the safety in production and realize unattended operation.