Equipment: SZL15-1.25-M
Capacity: 15 tph
Location: Papua New Guinea
Project boiler medium: Steam
Company Name: POM Packaging (PNG) Ltd.
Customer feedback:
Our company was very impressed by ZOZEN's biomass-fired steam boilers for sufficient combustion and stable running. Thanks again for ZOZEN's help, and look forward to doing this again.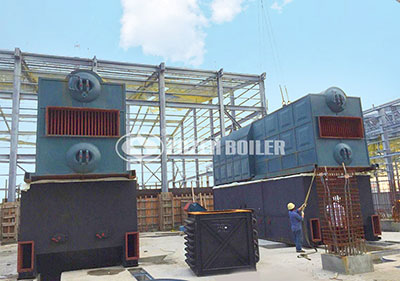 Introduction:
Steam boilers play a key role in the production workflow of papermaking industry, providing steam for concentration, bleaching, drying and other production processes. Pom Packaging is a large manufacturing plant mainly producing all kinds of packaging box and cartons.With the phenomenon in short supply was gradually showing up, Pom Packaging enlarged several additional production lines to solve the problem. This company needed to urgently purchase several stable steam boilers to meet production demands. In order to improve the economic benefits, Pom Packaging planned to use wood chips as fuel. Since wood chips feature high moisture and low calorific value, the problems of inefficient fuel burning, ash deposition and abrasion are prone to arise. To avoid these problems, the company put more effort in the performance when selecting biomass-fired boilers. 
After several deep technical communications with ZOZEN, Pom Packaging spoke highly of ZOZEN's professional skills in biomass-fired boilers, and ordered multiple sets of 15tph SZL series biomass-fired steam boilers. The ZOZEN biomass-fired boiler insists on technology innovation and breakthrough, it has optimized design for different fuel, for length and width of feeding hopper, rotary speed of gearbox, 1st and 2nd air ratio, vapor orientation and position etc., each fuel has different boiler design. The above features ensure the sufficient output, high thermal efficiency and stable operation of the boiler.