Case name: WNS series gas-fired steam boiler
Company name: Chongqing Yongsheng Packaging Co., Ltd.
Location: Hechuan District, Chongqing
Equipment: WNS4-1.25-Q
Project boiler medium: Steam
Capacity: 4 tph
Customer Feedback:
The WNS series steam boiler provided by ZOZEN Boiler had sufficient output, good steam quality, high operating efficiency and conformed to national environmental protection standards, which provided a reliable heat source for our carton production and printing.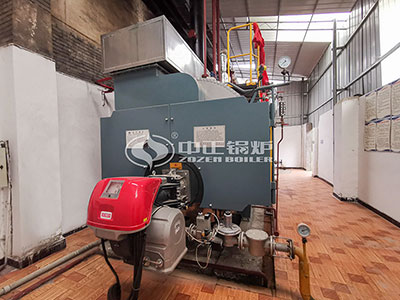 Case Info:
In the carton production process, the steam heating system plays an important role in increasing the temperature of cardboard. With the WNS series gas-fired steam boiler which is high-efficiency, energy-saving, safe and eco-friendly, ZOZEN Boiler has successfully reached the friendly and long-term cooperation with packaging enterprises such as Pacific Millennium Packaging Group and Shengxi Packaging, and has also accumulated abundant project experience. This time, ZOZEN and Chongqing Yongsheng Packaging Co., Ltd. reached the cooperation on the WNS series condensing steam boiler project to provide sufficient and stable steam heat source for the carton and printing production lines.
ZOZEN WNS series gas-fired boiler adopts the low-NOx burner imported from Germany, national advanced corrugated furnace, threaded smoke tube independently developed by ZOZEN and energy-saving devices such as economizer and condenser at the end of boiler's flue gas duct, to improve the overall boiler thermal efficiency to over 98%. It is worth mentioning that ZOZEN WNS series boiler also adopts the fully automatic intelligent control system to realize the unattended operation, which can help the enterprise save a large amount of boiler operating and human costs. The last but not least, the boiler adopts the clean energy natural gas and low-NOx combustion technology, which can lower the NOx emission concentration to less than 30mg/Nm3, so as to reduce the influence on the environment and make customers relieved.