Thermal power plants, which are responsible for central heating in various regions, attach great importance to the safety and stability of their heating boilers and therefore have strict requirements when choosing a steam boiler supplier. ZOZEN's technical team customized the fire tube boiler system to meet the customer's high requirements, providing 4 tons of high quality steam per hour, which is a highly automated steam boiler with wide applicability due to the use of gas as fuel.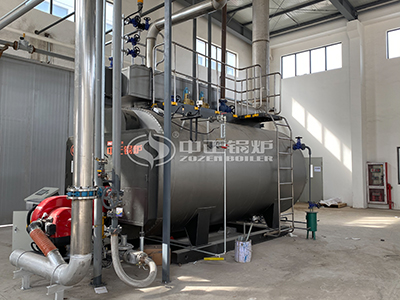 At the same time, the intelligent heating information platform enabled by the cogeneration plant realizes intelligent heating by means of Internet management. For this reason, Thermal Power plant has corresponding requirements for the operating system environment of the boiler. The gas boiler is compact in design and has an automated control system for easy conditioning and manipulation, with safety interlocking devices for high automation, automatic adjustment of multiple parameters and high safety performance, while adapting to the enterprise's intelligent heating platform.
WNS series gas boilers, with wet-back combustion design inside the furnace body, flue gas is repeatedly returned three times in the furnace chamber to ensure full combustion of fuel, and NOx emissions are greatly reduced to less than 30mg/m3, meeting strict emission requirements. The gas boiler for centralized heating also has the advantages of safe and reliable operation, economic application and long service life. ZOZEN's 4 ton gas-fired steam boiler has a larger furnace design, which fully ensures the steam storage space and heating surface, and can efficiently and continuously produce steam, providing sufficient and stable heat sources for corporate heating projects.