Sichuan Donghong Lvcai Technology Co., Ltd. is an enterprise engaged in the manufacture of aerated concrete products. The manufacture of aerated concrete products relies on the autoclaved curing process to enhance its tolerance to humidity and temperature, which prevents the concrete from being affected by the temperature and humidity of the external environment. Therefore, the quality of steam boiler affects the quality of concrete products to a certain extent.
ZOZEN Boiler and Sichuan Donghong reached the cooperation
ZOZEN Boiler has rich experiences in providing services for the building material industry, Sichuan Donghong has chosen ZOZEN Boiler as the boiler supplier.
According to the demands of the customer, ZOZEN Boiler recommended the WNS series three-pass gas-fired boiler. This boiler is designed with the corrugated furnace, it enlarges the heating exchange area and improves the combustion efficiency and operation stability. At the same time, the boiler is also equipped with advanced low-nitrogen burner, which can meet the ultra-low nitrogen emission standard. In addition, the boiler control system is generally equipped with water level, steam pressure control, alarm and interlock, which realizes the remote control ton ensure the safety operation.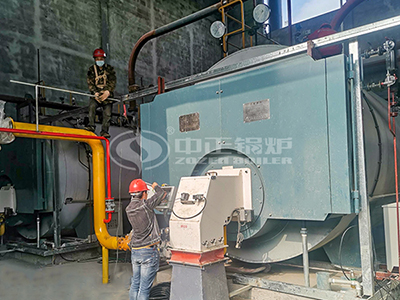 On-site installation of the WNS series gas-fired boiler
ZOZEN Boiler helps to create the special boiler system for the users
ZOZEN Boiler designs the economizer and air preheater for the customer in this project. The devices recover the high-temperature flue gas to raise the inlet water temperature and reduce the exhaust gas temperature. It reduces the heat loss and improves the thermal efficiency of the boiler and the energy utilization rate of the whole production system.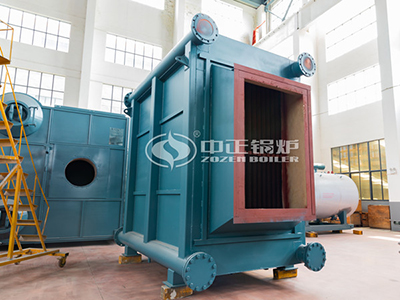 The condenser was designed and manufactured by ZOZEN Boiler
Now, the boiler was highly praised by the customer for its stable performance and easy operation.