As a manufacturing company, often cannot do without steam boilers as power equipment. For soap manufacturers, from the operating costs to compare and contrast 2 ton biomass boilers are more suitable for small-scale production enterprises. Steam biomass boiler produced by ZOZEN combustion utilization rate, boiler thermal efficiency of 85%, using biomass pellets as boiler fuel, burning clean and pollution-free, to achieve green production. Biomass steam boiler adopts digital integrated controller, users can control the combustion conditions according to the set program, and the operation is very convenient, which can realize automatic ignition, automatic ash cleaning and automatic feeding.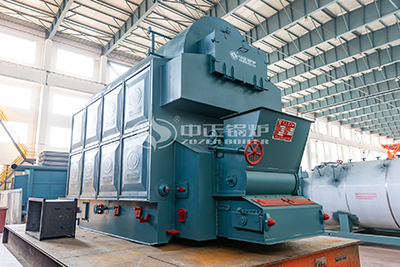 The biomass 2ton steam boiler is the smallest type of furnace produced by Zheng Boiler Company, and the common model of biomass boiler is DZL type, single pot longitudinal chain grate boiler. It is suitable for burning formed biomass fuel, and can also burn pure coal or mix coal and formed biomass fuel. The boiler is assembled in the factory, and the user only needs to complete the interfaces and auxiliary engines and piping systems after the boiler is delivered to the project site.
ZOZEN recommended the DZL series biomass-fired boiler system for the customer based on the size of the soap factory and the actual steam demand of the production line, which can output 2 tons of high-quality steam per hour. This single pot water fire tube boiler, with its compact structure, simple size, energy saving and low emission, is a popular heating equipment for production steam in small and medium-sized enterprises. This quick-fit boiler uses threaded flue tubes to enhance the heat transfer coefficient, while the scientific and reasonable arch structure and air distribution ratio ensure adequate fuel combustion, which not only improves the thermal efficiency of the boiler but also saves fuel costs.
The customer is very satisfied with the whole cooperation process from the inquiry to the boiler being put into operation. The 2 ton DZL biomass steam boiler not only has high thermal efficiency and sufficient output, but also can effectively save fuel cost, which makes the customer praise. ZOZEN boiler also shows its technical advantages in boiler design, by optimizing the boiler structure to solve the problems of ash formation, coking, burning front arch and burning hopper, which are common in traditional biomass boilers, ensuring that the boiler can run stably and safely for a long time!